We were recently featured in the Longford Leader… here's what they had to say: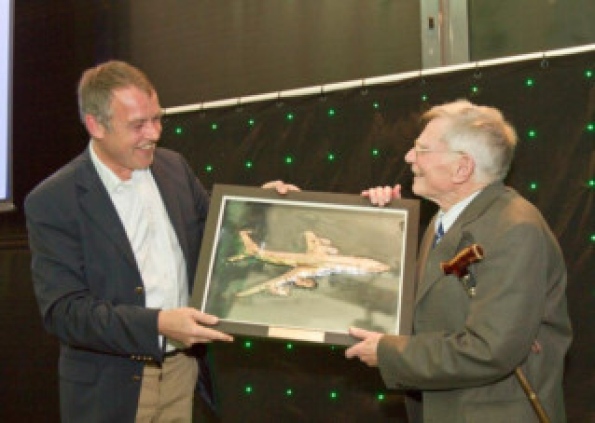 A copper Beoing 707, designed and created by a local craftsperson formed the centre-piece of Aer Lingus' recent 2013 Gathering event in Dublin to mark the 50th anniversary of the company's apprenticeship scheme.
Kilteel Coppercraft based in Clondra Co. Longford has been producing handcrafted copper pieces for over thirty years. The company was founded by John Cassin, and carried on since his retirement by his daughter Michelle, who was trained by her father in the art of handbeaten coppercraft. Their products, which include traditional celtic symbols, irish musicians and ogham gifts are highly successful both at home and abroad.
One of Michelle's most recent pieces was a Boeing 707, commissioned by John Kenny, Senior Supervisor of engineering with Aer Lingus, for the Aer Lingus Gathering which took place on March 9th. John had seen her work on the Kilteel Coppercraft website, and was impressed by the quality of her work. He gave Michelle a choice of planes to model on, but ultimately left the design up to her.
Michelle chose the Boeing 707 because it "was the oldest and most distinctive" of the three shown to her. The piece was presented by Aer Lingus CEO, Christoph Mueller to Michael Forde, a former Principal of the Aeronautical Department in the College of Technology, Bolton Street.
As a result, Kilteel Coppercraft come highly recommended by Aer Lingus, with John Kenny saying, "The piece was admired by everyone that saw it, and considering that I only gave [Michelle] a basic idea of what I wanted [she] came up with a lovely design."
Each product is carefully designed and created by Michelle in the Kilteel Coppercraft workshop using traditional methods. Every piece starts out as a flat sheet of copper, and is shaped using chisels, hammers, punches and wire. When the piece is done, it is then blackened with a chemical and re-polished. Finally, the piece is lacquered to preserve its finish.
It seems like the only way is up for the company, as another commission has been made, this time for the USA. Michelle – who also works part-time with the Social Services in Longford – is also currently working on a new range of ogham products. Customers can commission pieces with their own names, and there are special pieces for families or couples. The pieces are unique, and Michelle adds, "They are great original gifts for any occasion; including weddings, christenings and birthdays" or also make a great alternative for trophies or prizes."
Kilteel Coppercraft's pieces can be viewed on their website at www.kilteelcoppercraft.com. Pieces can be bought online,or to commission a piece, contact Michelle on 087 2893745